Story By Gail Brown
Photography By Kristin Goode
Rick Kaplan believes in second chances. As founder of the nonprofit organization Canine Angels, he is dedicated to helping abandoned dogs and disabled veterans change their lives for the better.
Stella, a rambunctious two-year-old pit bull mix, needed such a chance. She got that and more the night she collided with Kaplan's stonewall approach to discipline backed up by the constant support of a Canine Angel volunteer.
"There are many paths to success," states Kaplan. "And everyone deserves a chance to start over. We can turn things around."
It's a lesson Kaplan learned the hard way after he "messed up" in middle school. His father, a U.S. army captain who spent five years in Okinawa during WWII, simply picked up his son's report card and issued his verdict: "Fix it." Kaplan did and in doing so he learned a valuable life lesson: We have the power to make changes for the better.
Kaplan's efforts to pass that lesson on begin each time he enters an area shelter, assesses the available dogs and makes his decision: "That one. That's the one I need."
The dogs Kaplan needs are being tapped for a higher purpose. His mission is clear: to save animals from area shelters, obedience train them and then place them in foster homes where he can "train the trainer" to help teach the animal to obey and to socialize. Following training, all of the animals will find a home. Those that achieve at the highest level will be certified as service dogs and donated, free of any cost, to a disabled veteran.
"I'll put a dog through some intensive training for a week or so, a kind of boot camp," says Kaplan. "I've developed a form of behavior modification based on pack hierarchy. The dog must learn to become the subordinate pack member with the human established as the Alpha leader. That allows the dog to feel secure and reach his true potential. Then the animal will get adopted and stay adopted. I have found that everyone is in awe of a well-behaved dog, as if wild were the accepted norm."
Take Stella, for example. Healthy, alert, intelligent and out-of-control, she was headed toward an unfortunate end. But her luck turned when Cheri McLain of Rescue Animals Community Effort (R.A.C.E.) was asked to help. R.A.C.E., an organization in Brunswick County dedicated to raising awareness about issues facing pets in need, contacted Kaplan requesting an assessment of Stella.
"Rick works with dogs our group rescues and he never charges," McLain says. "He helps our foster homes understand the issues. He's changing the way people think about adopting pets in Brunswick County."
Kaplan's assessment of Stella was that she was definitely trainable. More importantly, she showed a desire to learn. This input made it possible for McLain to place Stella in foster care with a R.A.C.E. member. And the best part? Kaplan would stay involved and train the foster parent. If things worked out, Kaplan would have a new "angel" for his pack. If not, the dog would be trained and, in McLain's words, "Dogs Rick trains get adopted."
"I never make any promises, even to myself," says Kaplan, "that a dog will make it to 'service.' Just training a dog enough to get adopted into a 'forever home' is a complete success. Some of these adopted dogs become certified therapy dogs. At this time, about 30 percent end up as service dogs."
And the rest?
"In 2011 Canine Angels can claim responsibility for saving the lives of and successfully placing 175 area dogs, 152 of which have been adopted privately as a result of our input and training," says Kaplan. "Fourteen became service dogs and are already with their veterans. Nine more are now training with their veterans."
Stella's foster mom, Amy Justice, remembers what it was like when she first met the dog.
"When she first came, she ran laps around the couch," says Justice. "She was unstable; she didn't know boundaries! She was all energy and no direction. She thought she was boss."
True to his word, Kaplan showed up the next day and thereafter at least once a week.
"Little by little things got better," says Justice. "Rick taught me and I taught Stella. We taught her how to heel, sit and obey. We taught her to pick up items, hold them gently in her mouth and bring them to me. After five months in the program she would do that automatically. Rick takes the dogs back into his pack to finish training. He takes extra care to make sure the veterans and dogs connect in a special way. It's not just about matching needs; it's about making a connection. That's what he's looking for."
Once the dogs and the veterans make that connection, they help each other become productive members of society.
"Many people don't realize, but more lives have been lost on American soil to suicides as a result of Post Traumatic Stress Disorder (PTSD) than the number killed in combat in both Iraq and Afghanistan combined," says Kaplan. "With the help of my volunteers, I can train these animals to serve veterans with PTSD, mobility and stability issues, loss of limb(s), and hearing disabilities. Both the dogs and our disabled veterans deserve a chance to improve their lives."
To help ensure that happens, Kaplan officially formed Canine Angels in April 2011. No one in the organization takes a salary; the program relies on donations and volunteer support to achieve its goals. Kaplan also raises money by offering obedience lessons in private homes. The cost? A tax-deductible donation to Canine Angels.
In order to meet the needs of the veterans and his volunteers, Kaplan limits the territory he serves to an hour's drive in any direction from his home office in North Myrtle Beach. While he will, under strict guidelines, accept dogs from private families, many of the dogs Kaplan works with come from the North Myrtle Beach Humane Society, Brunswick County's R.A.C.E., and other area shelters.
Kaplan's work training volunteers also helps in other ways. According to Janie Withers, president of Paws-Ability, a Brunswick County organization dedicated to financial support of local rescue groups and shelters, "Every animal Rick has assisted with was adopted. That's a 100 percent success rate. Imagine if we could duplicate that! If Rick trains our volunteers, all the dogs in the shelter benefit."
Yet success in any endeavor is not without its challenges, and perhaps for Canine Angels the greatest challenge occurs after the veterans and their service dogs meet.
"It's critical I be involved every step of the way, especially after placement," says Kaplan. "I visit every team each week just to make sure things go right."
Sometimes they do; other times not.
And some matches are made in heaven. That's how it is with Barney and Joe Modica. Modica was injured in North Africa when the truck he and his buddies were riding in hit a land mine. Modica came home to a future that would include six months in a hospital at Fort Dix, New Jersey, a permanent hearing loss, and a Purple Heart.
"That was in 1942," his wife Mary explains, "the only time he was ever in a plane. After what happened in the war…the blast…Joseph's hearing was bad and it got worse over time. We wanted a dog for companionship, too. Barney makes Joseph feel freer. Joseph can't move without Barney letting me know. I was in the other room [once] when Joseph fell. Barney wouldn't stop barking and moving around. It was serious and Barney was saying, 'You'd better get moving!' Joseph loves Barney and Barney loves him back."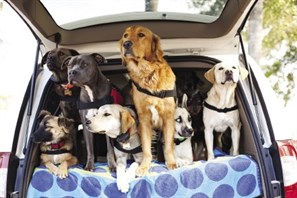 But even Kaplan can't guess right every time. When Shannon Spicknall felt ready to meet his service dog, Kaplan loaded up his pack, picked up Justice and Stella and headed for Wilmington, believing a match was forthcoming. For Spicknall and Stella, the chemistry just wasn't there. It was another member of the pack, Bourbon, a Rottweiler-shepherd mix, who won Spicknall's heart, and the feeling was mutual. Bourbon stayed for a short visit then moved in forever.
Today, life is full for these canines and veterans. We know they are heroes, but we see them as neighbors, involved in the same day-to-day activities we all share, neighbors with ordinary lives, if extraordinary dogs. Modica, who just turned 92, enjoys puttering around his Sunset Beach community on his electric scooter with service dog, Barney, close at his side. They spend a good part of their days visiting with friends, most still amazed Barney was once considered too aggressive to place.
Kaplan continues to put in long days and nights, trying to get everything done, always making time for the veteran in need, the next dog to be rescued.
Spicknall and Bourbon, always together, now volunteer for projects that help other disabled vets.
And Stella, too rambunctious to achieve the high level of discipline required to become a service dog, found another road to success. She and Justice bonded so completely that Justice took her back home when she came up for adoption.