Story By Jason Frye
Photography By Kristin Goode
In a corner of the basement workshop in his Boiling Spring Lakes home, Paul Guerin's wooden toys line the shelves. Here, a city bus, a tow truck; there, a dump truck, a crane, a pickup truck. Airplanes and trees and trains. A Jeep hauling a trailer loaded down with an ATV. And what looks to be a 1946 Ford Super Deluxe woodie station wagon, complete with a surfboard.
Each one of these creations is made with glue and dowels. The only nail to appear anywhere acts as the hinge for an opening door on one truck. The toys are hand-sanded, and while a few have been painted, most are natural wood.
In a lot of ways, the toy woodie and surfboard are the perfect confluence of Guerin's past and present.
Guerin grew up in San Jose, California, an hour southeast of San Francisco, 45 minutes east of Half Moon Bay (home of the world-famous Mavericks surf break), so he saw his share of woodie wagons, top racks loaded with surfboards. Now, when he heads to the beach he sees similar sights: surfboards in the beds of trucks, lashed to the tops of vans, sticking out the windows of cars.
"It's great here," Guerin says. "And not just my shop, but here, in this part of North Carolina. There's surf – though I haven't been on a board in years – and there's a supportive arts community, I love the weather, and my grandkids are nearby."
The grandkids – 6-year-old twins Max and Ally – are what brought Guerin and his wife, Paulette, to Brunswick County. They're what made him finally settle in and make a space for himself – and ultimately find a new career.
"I was an industrial sheet metal installer specializing in the HVAC systems of textile mills, a van customizer, a roofer, framer and carpenter of all sorts," Guerin says.
That sort of work puts you on the road a lot, which means you're away from home, which means you don't get to see your daughter grow up quite as much as you want to.
Guerin's most prized toy car is one he didn't build; it's his daughter's Pinewood Derby car. The car is little more than a wedge of wood with the edges sanded and a slight but purposeful waviness to the top. She painted it blue with polka dots all over.
"I wasn't home when she made this, but it makes me proud," says Guerin. "This car's about 22 years old, so's that train up top. Around the same time she made this, she got me this book of plans and patterns for building toys." He turns the car in his hands before putting it back in its resting place.
Guerin made the first train 22 years ago; it's on the top shelf. On the next shelf down is the second train, from 20 years ago. There are a few trucks here and there before a decades-long gap when cars and trucks began appearing on the shelf again in earnest.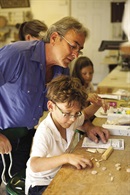 The story of the gap goes like this: Guerin moved from Maine to Mexico, all across the Midwest and northern plains before moving to the Carolinas. He lived first in Greenville, South Carolina, then migrated to Lexington, North Carolina. He got out of van customization and sheet metal fabrication and into home construction. He and Paulette bought a house on the lake in Lexington, fixed it up, added on to it and lived there, believing they'd be there the rest of their lives.
Then their daughter called.
"She said, 'Daddy, I have a five-year plan. In five years, I want you to move down here,'" says Guerin. "Paulette and I thought it sounded like a good idea, so we started thinking about an exit strategy."
Guerin's daughter graduated from UNCW, but not before the Cape Fear area could make a lasting impression on her. She stayed, moving to Boiling Spring Lakes and finding work at Progress Energy. Then one day she called again.
"Oh, it was maybe a year later and I pick up the phone," Guerin says. "She says, 'Daddy, there's been a change to the five-year plan. Can you make it a nine-month plan?' That thrilled us, the prospect of our daughter and her growing family, getting to see our grandkids grow up. It sounded perfect."
The Guerins got busy putting the house together to sell, looking for property near their daughter and making preparations to move, when they got another call from their daughter. "Daddy," she said, "can you make it more like seven months? I'm having twins."
"We put the house on the market on January 1, it sold on January 16, and Max and Ally were born on January 29," says Guerin. "It was a pretty busy month."
In the six years that have followed, things changed for Guerin.
"When I moved here, I built my house and had a hard time finding anyone to help," says Guerin. "It was booming. Once I finished, I found some work doing construction, then it all came to a halt. For going on four years now I've been mostly unemployed."
Then he saw Tony Aweeky's work at the Oak Island Craft Show, and his tools in the garage workshop began to call to him.
"The whole reason I make these wooden cars and trucks is because of Tony Aweeky," says Guerin. "I was at the Oak Island Craft Show and I saw some of his wooden toys and it reignited the spark I had to make some myself. So I did."
Guerin decided to make toys again.
"It's what I wanted to do for a long time and now I have all the time I need," he says.
Guerin broke out the book of plans his daughter gave him and studied, went to his shop and began working on a truck. Then another and another. Soon he had a shelf full of cars and trucks, a box full of jigs used to speed up making the parts, and some momentum.
Now he has a wall full of cars, trucks, a pair of airplanes and even a sternwheeler river boat. With his daughter's encouragement he's placed a few in Lantana's, a gallery in downtown Southport, where he says he's garnered a lot of interest. This year he's looking forward to joining the ranks of other local artists at craft and art fairs like the Oak Island Craft Show.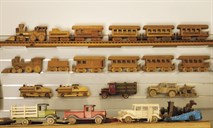 And maybe not with just wooden cars and trucks. For many years, he and Paulette have been making leaded stained glass panes. Recently, he's experimented with fused glass heated in a pottery kiln.
"We'd love to do more of this," Guerin says, holding up a nearly completed stained glass piece. It's of cattails, a common sight in coastal North Carolina, and it's quite good.
"You have to play with it, like with wood, to get the grains of the glass going in the right way," he says.
His fingers trace a leaf on one cattail and you can see the fine lines of the glass grain running through it, following the shape of the leaf.
"This – the cars, working on projects with Max and Ally, the stained glass – is more satisfying than anything I ever did professionally and I wouldn't trade it for the world," he says.
Neither would Max or Ally. Guerin made them rocking horses when they were one, and something else each birthday thereafter. Hanging in his workshop among antique hand tools are their aprons, their tiny hammers and some projects the three of them have completed.
"They love the shop," he says. "I'll turn around and one of them has half the trucks off the wall playing with them. It's about the most satisfying sight I can imagine."